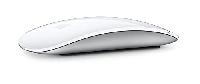 Amazon has Apple Magic Mouse – White for $59.99. Shipping is free.
Color:
Price:
$19.01 lower ( 24% savings) than the list price of $79.00
Customer reviews:
????? / 34,174 global ratings
About this Item:
Magic Mouse is wireless and rechargeable, with an optimized foot design that lets it glide smoothly across your desk.
The Multi-Touch surface allows you to perform simple gestures such as swiping between web pages and scrolling through documents.
The incredibly long-lasting internal battery will power your Magic Mouse for about a month or more between charges.
It's ready to go right out of the box and pairs automatically with your Mac, and it includes a woven USB-C to Lightning Cable that lets you pair and charge by connecting to a USB-C port on your Mac.
System Requirements: Bluetooth-enabled Mac with OS X 10.11 or later , iPad with iPadOS 13.4 or later
Previous at $60 with +37 Deal Score and .