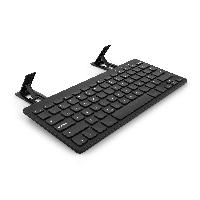 https://www.walmart.com/ip/seort/…gn_id=9383
Previous deal has been marked expired for a few days but it's still live or live again. I picked up mine yesterday and I've been really impressed with the keyboard build for this price. The integrated stand was able to hold my 12.9" iPad (1st gen) without any issues and the keys feel really good with good springiness to them. The keyboard is actually pretty heavy for the size and when compared to other cheap keyboards like Arteck, which could be slightly negative for those carrying it around. Was also surprised that this keyboard uses BT 5.1 rather than older 3 or 4.
For those who will be using it with iOS or MacOS, please note that one of the keys is labeled "win" and that serves the same function as the command key and it's in a different spot compared to keyboards from Apple or other Mac-compatible KB's.