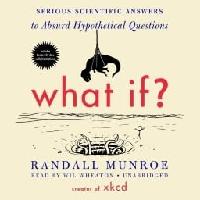 Chirpbooks.com has What If? Serious Scientific Answers to Absurd Hypothetical Questions (Audiobook) by Randall Munroe for $19.95 – $17.96 = $1.99.
Book Description:
Written by: Randall Munroe
Read by: Wil Wheaton
Format: Digital Audiobook
Run Time: 6h 38min
Genres/Categories: General Nonfiction, Nonfiction, Science & Technology, Physics, Science
What would happen if your cells lost the power to divide — or if the moon were to suddenly disappear? Discover the hilarious and harrowing answers to a host of intriguing hypothetical questions in a "delightfully demented" and "unexpectedly poignant" #1 New York Times bestseller ( The Boston Globe) with nearly 65,000 five-star Goodreads ratings.