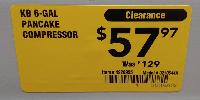 Mmmmm pancakes….
OK, with that out of the way, my local Lowes has a 6 gallon pancake compressor on clearance for $58. This is probably equivalent to the Porter Cable 6 gallon that is typically $100-130.
In my store there were at least 3 that I saw.
Some specs:
150psi,
2.4CFM @90 psi
Extra noise so you can find it… 82db at how ever they rate it. Anyway, this isn't a quiet compressor
29lb.
Great for filling tires, using a blow gun etc.
https://www.lowes.com/pd/Kobalt-6…5013091137
Looks like a YMMV deal.