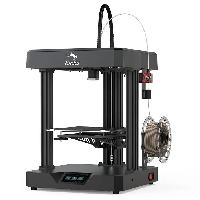 In Creality's Black Friday sale, you can get the Ender 7 for $288.40, which is the lowest price that I've seen for this fast core-xy type 3D printer so far. The next best price currently is $399.
Don't forget to use the $5 off coupon "Welcome20". You will get this code when you create an account at the Creality store. While they write in the email that it cannot be combined with other discounts, you actually can apply it on Creality's Black Friday deals as well.
The Welcome20 coupons also works for the Ender 2 Pro , which then costs $94. This was already posted as a deal but without the coupon being mentioned (but is now shown as expired, however there are still a few units available).
The Ender 7 has a core-XY structure, which means that less weight has to be moved while printing. Together with the linear rails, the dual part cooling fan and the dual-gear extruder and the optimized hotend this allows for faster printing without compromising print quality.
Modeling Technology: FDM?Fused Deposition Modeling?
Print Size: 250x250x300 mm
Machine size: 430x460x570 mm
Package size: 570x540x400mm
Machine net weight: 17.2 kg
Package gross weight: 22 kg

Printing precision: ±0.1 mm
Nozzle diameter: 0.4 mm
Nozzle quantity: 1 piece
Resume printing function: Supported
Filament detector: Supported
Extrusion method: Remote extrusion
Hotbed temperature: ? 100°C
Nozzle temperature: ? 260°C
Printing layer thickness: 0.1mm-0.4mm
Print bed: Carborundum glass
Power rating: 350W
Printing material: PLA/ABS/PETG
Material diameter: 1.75 mm
Slicing software: Creality/Cura/Repetier-Host/Simplify3D
Power supply requirements: AC 100-120V /200-240V ,DC 24V
Supported languages: 9 languages (Chinese, English, Spanish, German, French, Russian, Portuguese, Italian, Turkish)
Operation mode: Online/Offline (USB cable, micro SD card)