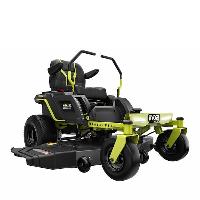 Hey All,
Scored a deal today. I dont really need this since I have a service which comes to mow my lawn, but I could not pass up on it either. So we shall see if I get any use out of it, if not, I am sure I can flip it for a profit.
As the title states, its a Ryobi 48V Brushless 54 in. 115 Ah Battery Electric Riding Zero Turn Mower for $499 (plus applicable taxes). I opted for the extended warranty for an additional $75.
Link below is for reference only
https://www.homedepot.com/p/314846874
Brickseek link
https://brickseek.com/home-depot-…=314846874
There were 2 left at the HD I went to. Both had minor rust on it, but may be cleanable, plus the seat is a bit faded (maybe dirty), but again, for that price, I couldn't resist.