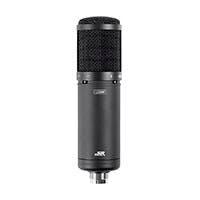 With case, shock mount, and accessories. Both retail for $100, regularly on sale around $50. Based on quick survey of reviews, both have varying degrees of electrical noise, LC200 lacking in bass/mids and described as "thin", LR100 described as lacking in high-end but good for rounding out guitars.
I bought the LC200 for cheap sound in a good room. My experience with the similar Monoprice 600800, lots of detail so you'll need a quiet recording environment, not for live use. You'll want to apply some EQ, but you'll do that in mixing anyway. My 600800 failed (huge increase in noise floor) despite being babied, so anticipate reliability issues down the road. Still, if you don't have a large diaphragm condenser, or could really use a case and shockmount, hard to beat the price. I'd probably have bought the ribbon also if I had an amp without line out, but I record and perform my guitars DI.
LC200 https://www.monoprice.com/product?p_id=625878
LR100 https://www.monoprice.com/product?p_id=625908
Both require phantom power.