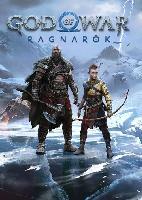 CDKeys has God of War Ragnarok (PS5/PS4 Digital Code) on sale for $27.89.
Deal Instructions:
Click here to go to the product page.
Add to cart and complete purchase. Your total will be $27.89.
CDKeys will send you an email with the PS5/PS4 code.
Go to the PlayStation Store on your computer or PS5/PS4 console.
Navigate to Settings – Redeem Code. Enter the code that was provided from CDKeys.
Game Synopsis:
Kratos and Atreus must journey to each of the Nine Realms in search of answers as Asgardian forces prepare for a prophesied battle that will end the world. Along the way they will explore stunning, mythical landscapes, and face fearsome enemies in the form of Norse gods and monsters. The threat of Ragnarök grows ever closer. Kratos and Atreus must choose between their own safety and the safety of the realms.
A future, unwritten – Atreus seeks knowledge to help him understand the prophecy of "Loki" and establish his role in Ragnarök. Kratos must decide whether he will be chained by the fear of repeating his mistakes or break free of his past to be the father Atreus needs.