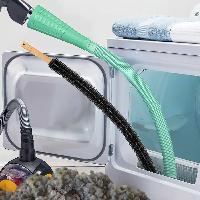 https://www.amazon.com/dp/B09Y8W86LC?th=1
Original Price: $16.99
Deal Price: $8.49
Code: 15PRV763

About this item
[REMOVE LINT BUILD-UP] – Sealegend dryer vent cleaner kit removes lint that has accumulated for many years in your dryer vents, making your appliance runs more efficiently and securely.
[DEEP CLEANING] – Flexible and handy vacuum hose attachments over 2.6feet in length, the cleaning pipes allow for deep access to difficult places. Perfect for cleaning appliances that you can't move.
[FITS ALMOST VACUUM] – Our vacuum hose adapter is suitable for most vacuum cleaners except for some dyson vacuum cleaners, thus no need worry about the connector; it is easy to assemble and use.Perfect for light cleanups and a heavy-duty power clean.
[FLEXIBLE LINT BRUSH] – This extra long brush is specially designed for cleaning your dryer's trapped lint, and also for cleaning the coils behind your refrigerator.It is A Must-Have Tool for dryer cleaning.
[HELPS PREVENT FIRES&SAVE MONEY] – Using Sealegend Lint Remover regularly to clean your dryer vent and help prevent deadly dryer vent fires from sparking.Using our dryer cleaner kit can also save the high cleaning cost.