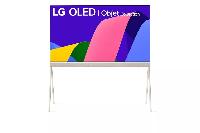 LG Electronics via LG Partner Store has 48" LG Objet Collection Posé OLED Freestanding Lifestyle TV (48LX1QPUA) on sale for $899.99 when you sign-up/login as a qualifying LG Member (eligibility based on your employer's benefits / perks program. Enter your work email address on the sign-up page to check if your company participates / qualifies). Shipping is free.
Note: Availability may vary by location.
With a retail pricing of $1800 on LG's website, and selling for $1600 at most retailers, this seems to be a great price. Amazon also has 2 in stock for $1485 (lowest price found for a reputable retailer outside of LG).
This is a lifestyle TV designed to blend in with your home, with freestanding legs, hidden cable management, cloth styling, etc. Based on the LG C2 OLED w/ evo panel technology, however compared to the C2, it has only 3 HDMI 2.1 ports.