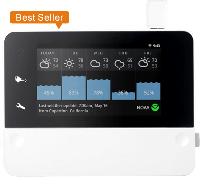 People looking for Smart sprinkler controllers.
I did little bit of research and got rachio 8 zone 2nd gen.
I think both Rachio and Rainmachine are great controllers.
During my googling and talking to the customer service I found two codes for the controllers.
Rain Machine Take 30 dollars off the price of 239 from rain machine website
Code: 30OFFTOUCHHD12
Link: http://www.rainmachine.com/produc…hd-12.html
Rachio code is for 30 dollars off the price of 199.99.
Code: IF%T%T%T$30
Link: http://www.rachio.com/store
Both are great, I went with Rachio because of lower price. But RainMachine is 12 zone, if someone needs more zones.
Hope this helps someone.