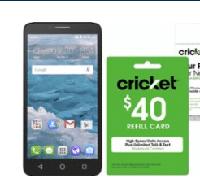 Best Buy has Cricket Wireless Refill Cards on sale 20% Off if purchased with Cricket phone or sim card.
Currently Cricket Sim Cards are $1 as listed on this .
This deal is not as good as 157 thumbs but it is comparable.
Using the deal above you could obtain a $70 Cricket Refill Card for $59.85 w/ Target Redcard.
This Best Buy deal will score you a $70 Cricket Refill Card for $62.81. With my 1.5% cash back, I ended up paying $61.87 per $70 card. This is including the $1 sim card.
This deal beats prior last month where you ended up paying $63.18 per $70 card.
Before anyone goes and talks about the tax and prepaid service fees, below is the breakdown of the Best Buy deal.
Item Subtotal $56.99
Store Pickup FREE
Estimated Sales Tax $4.70
Prepaid 911 Service Fee $1.12
Total $62.81
Thanks!