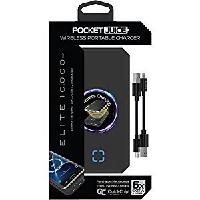 Hi,
Thought this might be a slick deal for those looking at portable chargers with wireless charging available (for phones that have that feature enabled).
TZUMI Pocket Juice 10000 Elite Wireless Portable Battery Charger – Black – $9
B&M – YMMV – must purchase in-store to get sale price, not available online at the sale price.
Walmart link ($23.60 on website, in-store price was $9):
https://www.walmart.com/ip/Pocket…/199052700
Brickseek link ($9 was lowest I saw):
http://brickseek.com/walmart-inve…=199052700
Amazon link ($29.20):
https://www.amazon.com/Pocket-Wir…B06XWM5QFF
Good luck!