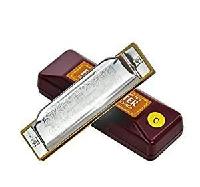 PLCEO via Amazon has Suzuki Folkmaster Standard 10-Hole Diatonic Harmonica
Discount Price is $8.25 with PM coupon: 8BDB8TKY
* Key of C.
* Easy to play and economical to purchase.
* Exceptional sound clarity and perfect tuning is made possible by a unique laser manufacturing process.
* Thin bendable reeds produce a mellow tone and the widest choice of sound timbres available from any harmonica manufacturer.