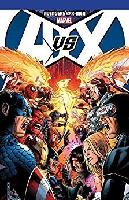 Amazon has a promotion currently for a free digital comic when you buy select comic books.
Buy 1 of these:
BTF Vol 1
https://www.amazon.com/Back-Futur…34c7740INT
or
BTF Vol 2:
https://www.amazon.com/Back-Futur…38a4bf0INT
And then you will get a promotional credit email from amazon:
"Thank you for your Amazon.com graphic novel purchase. You are qualified to select a FREE digital graphic novel from a selection of 100 popular Marvel titles, including "Star Wars," "Doctor Strange," "Civil War," "Old Man Logan," and more.
You can view the selection of eligible graphic novels here:
https://www.amazon.com/comicspromo
The promotional credit must be used by July 1, 2017. This offer is subject to Terms and Conditions.
Thanks again for shopping with us."
The list of comics you can get are on this page:
https://www.amazon.com/comicspromo
Avengers vs Xmen is the best option cost wise it runs $20 and is a collection vs some of the smaller books.This book contains 22 issues.
https://www.amazon.com/dp/B00FRP6…s-os-doi_0
You can select any title though. Civil War II, Old Man Logan, Guardians of the Galaxy, Star Wars, Punisher, Black Panther. There are a lot to choose from.
So basically you can get one of these more expensive comics for free after buying the back to the future comic.