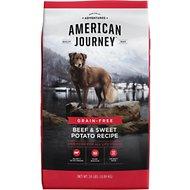 Chewy is offering 50% off your first bag of American Journey Dry Dog Food (various flavors; additional 10% off if you sign up for Autoship) bringing a 24-lb. bag of Lamb and Sweet Potato Recipe to $20.94 before shipping.
Additionally, you can get 50% off your first 18-oz. bottle of American Journey Wild Alaskan Salmon Oil for a combined total of $21.98 with free shipping.
Discount is automatically applied at checkout.