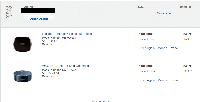 BestBuy.com has the Logitech – Harmony Home Hub & Amazon Echo Dot for $99.99 Black or White.
After checking out, the order status will show the following:
http://i.imgur.com/6Guf3rm.jpg
Since the items are separate SKUs on the order, they're open to the BestBuy.com Price Match policy when the order is in the return period.
Call 1-888-237-8289 requesting a Price Match. Tell the CSR that BestBuy.com has it for $39.99. The $10 credit + tax will be issued. This brings the order to $89.99 + tax.