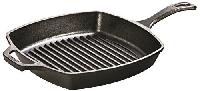 https://www.amazon.com/Lodge-L8SG…CF66W&th=1
Been waiting for a while on this and it's at an all-time low per CCC. Last time it was this low was 2014.
It's also eligible for Free Super Saver Shipping w/ $25+ Qualifying Purchase or Free 2-Day Shipping w/ Amazon Prime.
Also, definitely get the scrapers for cleaning between the grooves https://www.amazon.com/gp/aw/d/B0…AY0J0Q0Q98.
NOTE: While the skillet comes pre-seasoned to prevent food from sticking, it works best when sprayed or lightly coated with vegetable oil before use. After cooking, we recommend cleaning with a stiff nylon brush and hot water. Using soap or the dishwasher is not recommended, and harsh detergents should never be used. Towel dry immediately cleaning and apply a light coating of oil to utensil while it is still warm.