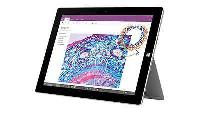 http://www.ebay.com/itm/Microsoft…2041531743
Looks like this item is back in the deal price it was about a week ago.
I purchased two of them last time to use as portable Credit card stations for the employees. It is a solid machine especially if you add the pen and the keyboard. It has 4GB memory so it will run windows smoothly.
It's $40 cheaper than Amazon's price (Amazon actual price is $388)
It got pretty good traction here on the last post.
And the same version WIFI only was also posted here a week ago. This model has LTE with only $10 difference.