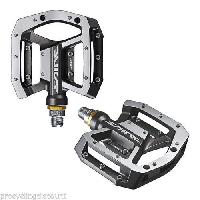 I was in the need for some new flat pedals to replace some squeaky cheap original pedals that I had on my daily commuter bicycle. These shimano PD-MX80 ones are fairly well regarded online with their tough assembly, customizable pins, and sealed bearings (even from heavy mountain bike users). I thought I'd give them a go at this price with the going on: P20MEMDAY.
http://www.ebay.com/itm/221937843077
There are other sellers around, but these were the cheapest buy-it-now at 58.88 with free priority USPS shipping.
4.5/5 from 529 reviews at amazon .