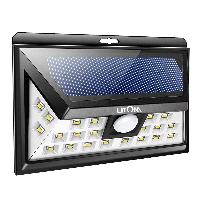 I bought some of them last year and it's still working fine. This is the new version. It's not the best price out there but the quality is good.
Buy 1 pack save $3 with code: XZTBWJ9F, price is $19.99-$3=$16.99
Link: https://www.amazon.com/dp/B01JS285JS
Buy 2 pack save $7 with code: GRRX5CUV, price is $39.99-$7=$32.99
Link: https://www.amazon.com/dp/B01KYXS5WW
Features:
With 3 LEDs on Both Side: Unique Wide Angle Design offers a larger coverage of luminosity(526 lumens). The corner LEDs put out enough extra light to really make the solar light very efficient as a whole.
SUPER BRIGHT 24 LED SOLAR LIGHTS: 24 LED Design provides a super bright level of illumination for a wide area, which is much brighter than other similar solar lights in the market.
No Wire Needed, Solar Power Lights: Super easy to set up. Save your precious time in installing the electrical wire. As winter approached the sunshine becomes weaker than summer, please make sure the item is put in direct sunlight all day so that it can absorb more sunlight for charging.
THREE OPTIONAL MODES: Choose the perfect mode according to your diverse needs. Full-on Mode suits for the front door, back door, outdoor patio, deck area backyard and etc. Reduced Light Mode suits for balcony railing, side and back yard, entryway and etc; Motion Detected Mode suits for garage, driveway, path, fence and etc.
WALK BY, LIGHTS ON: The sensitive motion sensor detects motion from up to 26 feet away. We recommend the appropriate installing height should be 5.6feet-6.6feet.