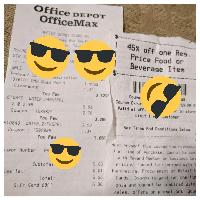 My First Post : >
Crystal Geyser Spring Water, 0.5 Liters, Pack Of 24 Item # 610840:
in store original price: $2.99. $1.64 or $1.65 after in store printed coupon.
In order to get the coupon, you might need purchase some clearance item for <$0.50, (such as product ID: 1376101 for $0.12, see receipt image) or $1 paper after rewards (968-627). Your 2 coupons will be printed as 45% off one regular price food or beverage item, 45% off one regular price cleaning supply item, 40% off one regular price USB drive, memory card or/and 50% off one regular price 1000pk of avery shipping label (coupon expires on late of June). You actually can purchase more than one item (e.g. 3 cases of water) on one coupon in one transaction (see image), even though it indicates one.
http://www.officedepot.com/a/prod…05-Liters/
In addition, there are many items are much cheaper in the store. Bounty Select-A-Size 1-Ply Paper Towels, Item # 379542, online price:$10.39 with 100% reward back, $6 in store without reward. There are another coupon as $10 off of $50 from your mail.