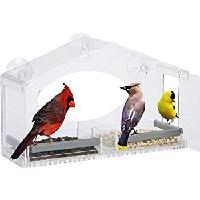 hi guys, I was looking for a cheap bird feeder for my house and this looked like a good deal, hopefully, it will be squirrel proof too.
https://www.amazon.com/dp/B00K05L64E
coupon code: SDGG55OF
sale price: $8.08

Allows Close-up View of Birds to Study Their Markings. There Is No Other Bird Feeder That Will Capture Your Backyard Birds This Close! You'll Be In The Comfort Of Your Own Home Too!
Ideal for Classrooms, Dorms, Nursing Homes, Apartments, Condos, and Ideal for The Whole Family!
Large Feeder at 8.5×5.5.x7.5 inches 3 Quality Super Grip All-Weather Suction Cups That Will Not Come Undone Even Under Extreme Weather Conditions! Made Of Lightweight Very Durable All-Weather High Transparency Acrylic. Holds Up To 2 Cups Of Bird Seed!