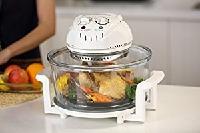 This is a top rated oven. After tracking the Amazon pricing and Walmart pricing for a while I got it last month for about $37.xx and I thought I scored a good deal. It went out of stock very quickly in both sites before I could even post it here.
Since lot of us accrued a lot of credits (e.g. Dash Promo) on prime day, timing could not be better if you are in the market. I am pretty happy with the product so far. I also purchased 4 yr extended warranty they offered simply because it was very cheap ($5.xx).
Anyway, here is the link for Oyama TRO-110C Turbo Convection Oven, 12 L, White:
https://smile.amazon.com/gp/produ…PDKIKX0DER
Alternatively, you can pick it up at Walmart with pick up discount for about the same price:
https://www.walmart.com/ip/Oyama-…n/19676907
Hope this time they have more in stock.