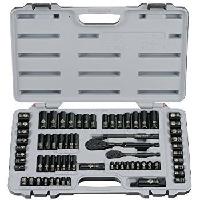 https://www.amazon.com/Stanley-92…121&sr=8-2
This is a great set of sockets for the money. Yes, only 69 pieces but NO fillers. That means you don't get a bunch of useless bit drivers or 4 combination wrenches that will become redundant when you buy a complete set. No, this is just sockets and unlike many sets this one has a pretty full selection! For example deep sockets in both drive sizes and with reasonable overlap between 1/4 and 3/8 drive. As someone who works on Japanese cars I'm often frustrated that socket sets skip things like a 1/4 drive (or both 1/4 and 3/8) 12mm deep socket or just stop 1/4 drives at something small like 10mm (deep or shallow). This has 1/4 drive 6-13mm (shallow and 7-13 deep) and 3/8 drive from 10-19mm Reviews are very positive with most complaints focused on the so-so blow molded case.
Normally this is around $55. $47 isn't a killer discount but this is the lowest I've seen it in over a year.