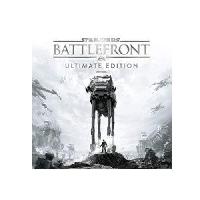 https://www.amazon.com/Star-Wars-…B017DOZAJQ
The Ultimate Edition includes access to the Season Pass and unlocks 5 in-game items: DL-44 blaster, Ion Grenade, Ion Torpedo, Ion Shock, Victory
Visit classic planets from the original Star Wars trilogy, detailed with an unprecedented amount of realism and sense of authenticity that will transport you to a galaxy far, far away
Engage in epic battles on iconic planets including Hoth, Endor, and Tatooine. Also, bring the fight to the previously unexplored planet, Sullust.
Pilot a diverse set of ground-based vehicles including nimble speeder bikes, massive AT-ATs, and more
Battle alongside your friends online or in offline split-screen Co-op mode
Lowest price ive ever seen and its digital download so you can play ASAP!
Enjoy!