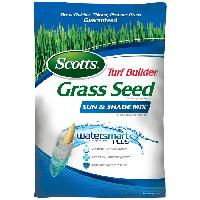 Scotts 20-lb Sun and Shade Seed
Item # 305323 Model # 18249
Looks like this is not nation-wide deal but post the zip where all you saw lower price.
Usual price $70. Dropped to $49.98. Another $10 off can be applied with a filler.
I used STA-green seed this season which has given decent results so far (Scotts was $70 at the time). But for Spring overseeding, I'll probably use Scott's and hope to see the difference at this price.
Grow quicker, thicker, greener grass – guaranteed
WaterSmart PLUS Coating absorbs more water, feeds with essential nutrients and protects seedlings from disease
Scotts most versatile mix
Stays green even under extreme conditions like dense shade or scorching sun
Spreads rapidly to repair thin and bare spots
https://lowes.com/pd/Scotts-20-lb…ed/4067858
Filler: https://lowes.com/pd/Hillman-3-16…er/3036620