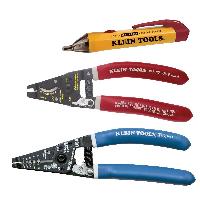 Promotion Details:
Price Valid: 01/08/2018 – 01/22/2018
Enter promo code KLE15TOOL at checkout to receive 15% off per qualifying item. KLE15TOOL
15% off select Klein tools. Here's a few examples (prices after 15% discount):
4-Piece Complete Coax Installation Kit, $35.84
4-Piece Outlet Switch Installation Kit, $27.45
Cut Strip and Test Kit, $27.45
Electrician's Scissors, $20.95
Cushion-Grip Screwdriver Set (8-Piece), $52.14
Compression Crimper, $50.12
Universal F Compression Connector for RG6/6Q (50-Pack), $31.43
Note that I did not find any Klein tools for which the discount code did not work.