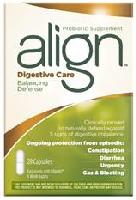 https://topclassactions.com/lawsu…ettlement/
Form:
https://kccsecure.com/alignsettle…nClaimForm
A $30 million class action settlement will benefit purchasers of Align probiotic supplement, which was allegedly advertised as having "clinically proven" digestive health benefits without the clinical data to prove such claims.
Class Members of the Align probiotic settlement include all U.S. consumers who purchased Align for personal or household use between March 1, 2009 and June 6, 2016 and did not receive digestive health benefits.
Deadline:
5/16/2018
Potential Award:
Up to $49.26
Proof of Purchase:
None required.
Class Members are able to submit a claim for two packages of Align purchased between March 1, 2009 and Oct. 31, 2009. Each package is valued at $15.88.
Consumers also have the option of submitting a claim for one package of Align bought between Nov. 1, 2009 and June 6, 2016 for a refund value of $17.50.
The settlement payout amount is 50 percent of the average retail price of Align sold during this time period.
http://www.alignsettlement.com/
NOTE: If you do not qualify for this settlement do NOT file a claim.
Remember: you are submitting your claim under penalty of perjury. You are also harming other eligible Class Members by submitting a fraudulent claim.
If you're unsure if you qualify, please read the FAQ section of the Settlement Administrator's website to ensure you meet all standards (Top Class Actions is not a Settlement Administrator).
If you don't qualify for this settlement, check out our database of other open class action settlements you may be eligible for.