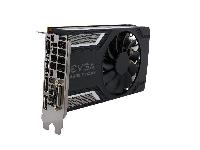 Everyone knows that virtual currency miners are ruining the GPU industry, profiting chump change that can't earn a living wage anyway (equivalent of bums panhandling on the street). Literally the stupidest hobbyists ever, I'm sure they'll ruin this deal quickly; but as of the moment I'm posting this, here we are:
https://www.evga.com/products/pro…P4-6163-KR
Although this is the noisy single-fan configuration, it's the superior SC model. Shipping is a little pricey, but there's no tax for most, so it's a wash. The street price on this is about double what you see here.
If it goes out of stock, use the Auto Notify function (like I did), and jump on the deal as fast as you can next time.