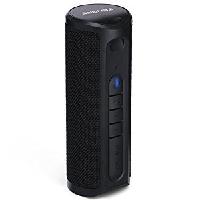 https://www.amazon.com/Bluetooth-…9%3AZENBRE
? 2x5W, 2×2" Speaker Units?There is integrated 2x5W amplifiers for each cylinder, combined with 2×2" low frequency radiators, plus a subwoofer on each cylinder, it enhanced the sound quality not only on high, but also on mids and lows. It has two drivers along with a passive subwoofer, and the way the drivers are designed gives the speaker a more expansive sound spectrum.
?True Wireless Stereo Separation?The true wireless stereos provide top quality sound due to the clear distribution of sound between the right and left channels. And make it possible for you to get 360° surround sound quality for your device even without a dedicated home-theater system.This is nice price arrange in the way of stereo separation, so you can separate the two speakers to achieve good stereo separation! Just a True Wireless Stereo system for your personality!
?Bluetooth 4.1, Lighting Connection?Bluetooth Standard 4.1 make the connection prompt and stable. The high version Bluetooth helps to save power! These devices can be paired with smart TVs, PCs, tablets,smartphones, laptop and Echo Dot, more universal compatibility makes more easier life!
?Up to 24hrs Playtime?Powered by a built-in high capacity rechargeable lithium battery, make sure we have a home theater to enjoy it full day by 20 hours, even up to 24 hours at normal volume!
?Fabric IPX4 Waterproof?The speaker is made of waterproof fabric body, IPX4 with remarkable sealed cover. By testing, flush Z4 speaker by running water for seconds, there is no water aboslutely inside! And appears to be well-built — and it's certainly eye- catching.