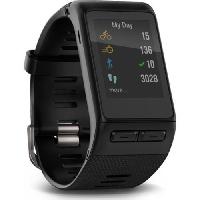 Garmin vivoactive HR GPS Smartwatch Regular Fit Black 010-01605-03 Refurbished @ebay buydig with Authorized USA Dealer Refurbished Warranty
https://www.ebay.com/itm/332378167807
The seller is buydig, not sure if it's related to buydig.com.
First post at SD.
Missed blackfriday deal for $120. Been looking for Vivoactive HR everywhere,
So far the cheapest I can find.
Just bought one for myself. Hopefully it's a good deal to everyone.