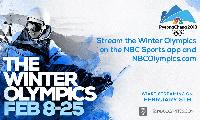 posted a couple of years ago.
I am posting this now so that those that can get this free, will hopefully not pay for this service:
U.S. service members and honorably-discharged veterans worldwide can watch NBC Olympics' streaming coverage of the 2018 Winter Olympics from their desktops and personal devices. This benefit is provided to current U.S. Military service members, including Navy, Army, Air Force, Marines, and Coast Guard, including active duty, Guard, Reserve, and honorably-discharged veterans by Comcast NBCUniversal, and in partnership with your local Cable, Satellite, dMVPD and Telco providers.
See https://www.shopmyexchange.com/winter-olympics for the details. You can see the FAQ here: https://www.shopmyexchange.com/as…ympics.pdf
If you're in the US military, veteran or affiliated, you can get an AAFES ShopMyExchange.com account. Many of us here are already shopping there. With that account, you can authenticate with NBC to watch their complete coverage of every Olympic event from start to finish starting on February 8th.

NBC Olympics will stream 1,800 hours of coverage, including live streaming all competition,as 2,800 athletes from 90 countries compete in 15 sports from Feb. 8-25, 2018.
This benefit is provided to those who serve in the US Military, by Comcast NBCUniversal in partnership with the Exchange and your local Cable, Satellite and Telco providers.
Requires a shopmyexchange account. Due to broadcasting regulations, NBCUniversal is only allowed to show NBCUniversal Sports content on the internet in the United States and U.S. Territories. Users outside of these locations will be able to access content on a US Military base and only on previously approved internet ranges.
Every effort has been made to get access for service personnel at Exchange locations. However, due to the nature of this first time project, service gaps could occur.