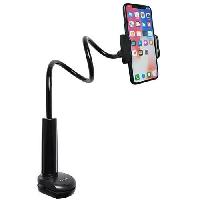 I was looking for a Goose Neck phone holder and came across this one that has a 35% discount right now – $7.79 after applying the promotion on the page. Or, use coupon code GURGEFR7.
https://www.amazon.com/dp/B0777JP14F
If you are using a big and thick case, then it won't be compatible with the spring-grip. Make sure the whole size is within the limit. Please view the measurement image of the spring-grip for reference.
Max width should be about 3in(76mm). Max thickness should be about 0.5in(13mm).
27.5in(70cm) overall length with 21.5in(55cm) flexible arm.
Fit for 3 inches(75mm) thickness countertop or headboard.
Aluminium-Magnesium Alloy; ABS plastic.