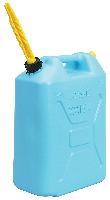 While many of us are working on the food storage in our emergency preparedness, most of us are VERY ill-prepared with our water storage. The general advice is to have a minimum store of potable water for 3 days (2 weeks preferably) with 1 gallon per day for each person or pet in the household ( link to CDC recommendations ).
In my opinion these Scepter 5 Gallon HDPE (#2) Plastic Containers are the best bang for the buck. Right now Pep Boys is selling them for the cheapest I have ever seen:
https://www.pepboys.com/product/d…quantity=1
Price valid online until 11:59 pm EST on 4/29/18.
Checkout with PayPal and pay with your enrolled Chase Freedom card to save an extra 5% in their Cash back . Click-through cash back is also available from the regular places.
Here is why I like these Scepter 5 Gallon Water Containers:
Filled they still weigh under 45 pounds
They are portable, you can move them during filling, storing, or bugging out. 55 gallon drums are a bear to deal with and a leak will result in 55 gallons of trouble.
They are made in Canada
They are fairly thick and sturdy. they are slightly wider on the bottom making them more difficult to tip over than regular Jerry Can styles.
They are highly rated on Amazon , Pep Boys, and everywhere they are sold
They are light blue which denotes they contain water and the opaqueness block more UV rays than white (less algae growth)

They fit nicely on a wire storage rack or in the back of a closet
The downside to these is that THEY DON'T STACK and they should only be stored standing up. Sure WaterBricks are stackable and can be put on their side even, but they cost a lot more and they hold only 3 gallons. Nevertheless, Overstock.com has decent price for WaterBricks , especially if paired with a coupon and cash back.