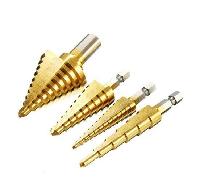 Amazon has DRILLPRO 4 PC HSS Titanium Coated Step Drill Bits Set SAE Sizes Bits for $12.79 after you apply coupon code: TTXUJ3DI at checkout.
LINK
The bits set includes four standard step drill bits that can replace 38 individual drill bits, you can process 38 different kinds of diameter holes with the four piece.
1/4 hex shank – fits into power tools chuck securely and eliminates slip. Hexagon shaped shanks are better for boring through harder materials and have less slippage.
Clear chips faster and allows particles to escape easily.
Coated with aluminum nitride for proven capability and durability in drilling holes in plastic, copper, stainless steel and many other types of sheet metal so that they power their way through.
Warranty offered within 90 days product quality is not completely satisfied, please CONTACT US for a 100% refund.