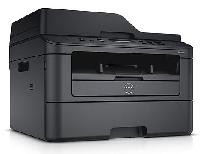 Dell E514DW Mono Laser All-in-One Printer $84.99 after coupon 62817 at Staples.com, no filler is needed to use coupon. Free shipping!
E514DW All in One
To see $109.99 price before coupon on iphone: On iPhone, change to desktop view, price dropped to $109.99 and coupon applies too.
On desktop, try Chrome, you will see discounted price and coupon applies
Bestbuy $179.99 with 4.5 star ratings
Be quick, will be out of stock soon!!
For these missed E515DW deal, this deal works for sure!!!
Please give me reps if you like the deal!!
Looks like only difference from E515DW is no fax function, but this one has faster print speed (1 page faster)
Product Description
This Dell three-in-one printer processes 27 pages per minute for efficient printing, scanning and copying
Complete everyday printing tasks quickly and effortlessly with this Dell E514DW multifunctional printer. The printer features a time-saving built-in duplexer that allows for double-sided printing, while the automatic document feeder allows you to scan or copy up to 35 sheets without having to manually set each page. Its wireless connectivity feature allows you to print documents directly from compatible smartphones and tablets using the Dell Document Hub app. The Dell Printer Easy Installer allows for fast and easy setup on your computer.
3-in-1: Print, Copy, Scan
Network and Wireless Ready: USB 2.0 High Speed, Ethernet 10/100BASE-TX; Wireless 802.11 b/g/n, WPA2.0 (Personal), WPS 2.0, WiFi Direct
Automatic duplexing ( two sided printing)
Prints up to 27 ppm
Scan or copy up to 35 sheets
Upgrade and outfit your workspace with this Dell printer that makes document manipulation an effortless task. Choose equipment that's designed to multitask so you don't have to. With a compact design and high-speed capabilities, this machine frees up much needed space in your office and produces quality copy in no time at all.
Save Space
Eliminate the need for three bulky machines in your workspace with this all-in-one printer. Easily print, copy or scan your documents from one efficient piece of equipment that allows you to make use of valuable office space.
Save Time
Watch your documents arrive in the blink of an eye with the mono-laser printer that features a printing speed of 27 pages per minutes and lets you scan or copy up to 35 sheets without the touch of a button. The printer provides automatic double-sided printing so that you don't waste resources.
Speed up Your Start-Up
Get off to a speedy start by making the right choices for your office with a machine that comes network and wireless ready so you don't trip over cords along the way. A USB port and Ethernet 10/100BASE-TX allows you to send your prints directly from the Internet, tablet or a flash drive.