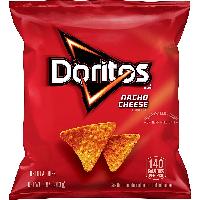 Doritos Nacho Cheese Flavored Tortilla Chips, 1 Ounce (Pack of 40) – $9.03 @ Amazon.com w/S&S
The 3rd best Doritos flavor. Also, Doritos are bad for you. Eat them at your own delicious, salty, crunchy, cheesy risk. *licks fingers*
About the product
Pack of 40 one ounce bags
Doritos tortilla chips with classic nacho cheese flavor
Made of whole corn
Crunchy straight from the bag or after scooping up dip or salsa
These much-loved treats are fun to enjoy at lunch, as an after-school snack, or party refreshment
Our snacks have a short shelf life (60-90 days) so most of our packages only show the month & day of expiration (e.g. "Aug 16" means August 16th, not August 2016). For optimum flavor and freshness, we recommend the snack be consumed by the date on the package.
Nacho Cheese Flavored DORITOS Tortilla Chips are the universal language of awesome. Combine DORITOS tooth-rattling crunch with the bold flavor of nacho cheese, and you've got an unstoppably delicious snack. Grab a bag and stock up on the bold taste of DORITOS Nacho Cheese Tortilla Chips.