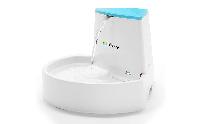 https://www.amazon.com/dp/B01MT0P1Q2
Code: HB8I733M
I don't have this exact brand, but we've been using two pet fountains in our house, and it really does make our dogs and cats drink more. I would advise cleaning these on the top shelf of the dishwasher every 2-3 weeks, to avoid any mold buildup. The filters do a good job of keeping the water clean, and the reservoir can just be topped up with a glass of water whenever it starts making noise.
The pumps in these things are typical cheap water pumps you'd find in any outdoor or indoor pump for these kinds of items, flowing bird baths, etc. Nothing special, but it gets the job done. The pump itself isn't loud — less than the noise of the trickling water itself. Might keep someone up at night if you have it in the same room you sleep in, if you're sensitive to white noise.
"Why can't you just use a normal bowl like everyone else?!" There, now no one has to say it. But I find them useful for our animals.