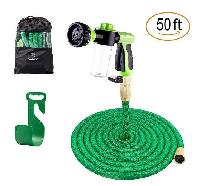 Not a bad price for what this kit comes with.
https://www.amazon.com/dp/B07C7LX27P
ReviewMeta gives this item a grade of Pass
https://reviewmeta.com/amazon/B07C7LX27P
Three size options (25-50 ft), prices range from $12 to $15 after coupon.
50% off coupon code: HXLTSQH8
Description:
Sosoon Expanding Garden Hose is great for many watering and cleaning uses: garden, workshop, lawn, car-washing shop, RV, pool, boat, etc.
Our lightweight hose is easy to lift, stretch and maneuver as you water your lawn, wash your car, dog, and more. Its stretchy, expandable body will never tangle, twist, or kink, while its sturdy brass connectors will never burst, leak or break. Our included hose hanger enables compact storage of your hose when not in use. The storage sack allows you to easily transport you hose when on the go, whether you're taking a road trip or another outing.