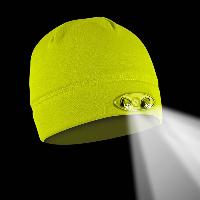 Hi-Vis $9.99
Radiant Orchid $9.99
4 bright LEDs
2 of them are angled down at 55 degrees to light up where your hands are, while the other 2 LEDs are aimed forward.
48-lumen brightness
Allows you to see in the dark from up to 22m away.
Comfortable design
Hat has a pony tail slot in the back.
The soft moisture-wicking lining
Pulls moisture away from your head and keeps you warm and dry.
Up to 68 hours of usage
With 4 replaceable CR2032 batteries.