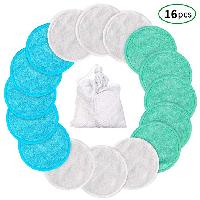 https://www.amazon.com/gp/product/B07G8V47Z3/ –> $13.99 – 40% OFF Coupon T8AF3VKZ = $8.39 + FREE PRIME Shipping.
?REUSEABLE MAKEUP Remover PADS- Eco-friendly organic bamboo makeup remover pads and 16pcs pack into one laundry bag, enough to use while some is in the wash, our one bamboo makeup remover pads are equivalent to 1000pcs general cotton pads.
?SOFT NATRUAL BAMBOO FABRIC MATERIAL&EASY TO USE-Made of Special Fabric Bamboo, super flyffy and soft pads is great to clean and deep into your pores and effectively pull all of makeup, sunscreen, chemicals,cosmetics out, it is great facial remover pads, eye and eye shadow makeup remover, mascara makeup remover and lipstick etc, take this natural chemical free soft pads to your home right now!
?A ORGANIC CLEAN ALTERNATIVE-100% remove your makeup away with some cleanser or toner, it is recommended to add some warm water to wet this remover pads gently removing makeup pads in a circular motion, and flipping cloth over and over until all makeup is removed and it will leave your face clean, soft smooth and fresh right away. It can be reusable and washed by machine. come on! Let's be an environmentalist together.
?GENTLE FOR MOST SENSITIVE SKIN-This new updated 2018 version eco-friendly reusable soft facial pads is fit for most dry, sensitive or oil skin and delicate eye area, not only women can use it, also the men and baby, best yourself gift or to your family or friend.
?100% GUARANTEE&RISK FREE-We guarantee to provide 100% satisfaction with our reusable makeup remover pads, just tell us, if you do not like it and we will make a refund