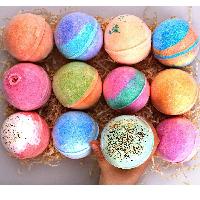 This got 4.6/5 rating out of 125+ reviews on Amazon.
This 5oz all natural and organic bath bombs gift set is scented with organic Essential Oils and natural dyes for a calming home spa treatment. The bulk buy sale option is so you can get more for less, the perfect gift for her or you!
Whirl and fizz your "blues" away with one of our skin nourishing extra large handmade bath bombs. Custom handmade from only the finest ingredients, our bath bombs will change the way you bathe. Arriving in a set of 12, our bath bombs contain skin nourishing ingredients that will leave your skin smooth and moisturized long after you've stepped out of the tub.
They are soothing, comforting, and relaxing, doing all the work while you rest. Our bath bomb revitalize and nourish your skin with the help of the skin loving oils and are colored with all natural ingredients from the earth like beet root and kelp powder. Enjoy a relaxing bath with our beautiful organic soothing Bath Bombs.
These bath bombs do not stain tubs, but if soap scum is already present in the tub before use, some staining could occur. To keep this from happening, just give the tub a rinse and wipe before and after use! Our bath bomb will dissolve, and fill the water with wonderfully fragrant oils, nourishing and moisturizing butters and oils, and additional items, such as flower petals, glitter, and color.