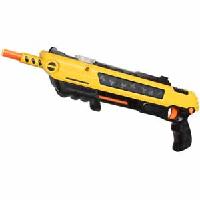 Fry's Electronics has the following on sale this week.
Bug-A-Salt 2.0 Pest Eradication Gun for $29.95
Model: BS62-Y
with Frys Electronics Sunday Email Promo Code
You must have been signed up for their emails to receive the Promo code on Sunday, October 28, 2018. The online price will show as $39.95 until you enter your Promo code at checkout.
Available in stores or online with Free Shipping with $34 purchase.
You might be able to get a price match from Amazon if you don't have a promo code. YMMV on price-match.
You can see the full Fry's Sunday promo ad here . The Bug-a-Salt is in the Cell Phones and Appliances section in the middle of the page.
Shoots a shotgun spray of regular table salt – kills flies on contact (mostly).
80 Shots of Salt Before Reloading.
No Batteries Required.
Price good through Saturday, November 3, 2018
Video and others .
Fry's Electronics Store Locator