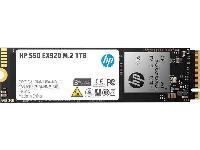 Newegg via eBay is selling the HP EX920 1TB NVME SSD for $169.99. Use eBay 10% off code PHLDAYTEN to make it $152.99. Code expires at 3am PST on 12/8.
https://www.ebay.com/itm/HP-EX920…2454374689
Here are a couple reviews from respected sites:
https://www.anandtech.com/show/13…ssd-review

When it comes to performance, the HP EX920 is also not quite at the top, but it's close enough. On a few tests, the EX920 manages to set new performance records, but on some of our most challenging tests it falls behind the competition and comes close to dropping into the low-end NVMe segment, which is mostly occupied by drives with smaller & cheaper controllers. But even when the EX920 doesn't exactly shine, it stays well ahead of SATA drives, and the overall performance picture makes it clear that the EX920 deserves to be classified as a high-end NVMe SSD. The EX920′s weaknesses are relative; it's never truly slow.
https://www.tomshardware.com/revi…,5527.html

Surprisingly, the HP EX920 is the best value in the 1TB NVMe market. That title went to the Intel 760p before the HP EX920 came along. Intel still hasn't shipped the 1TB 760p, and according to CDW's early product page, the 1TB EX920 costs less. We suspect the performance for most users will be about the same in most consumer-focused workloads.