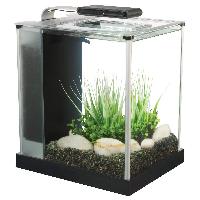 Fluval Spec III is going on sale at Amazon and Chewy for $42.99. This is one of the lowest price I have seen. For Chewy users who never used Autoship, you can use autoship 30% off on it to knock it down to $30.09 as long as you have items that quality for autoship.
Free shipping at $49 before discount applied, so you just need to add $7.01 of stuff to get free shipping. Max $20 discount so the maximum discount is reached at $66.67 of stuff.
It's a 2.6 gallon nano tank with all-in-one hidden filtration system (chemical + biological + mechanical) and LED that can support low to med light plants. I think this is one of the better all in one nano kits out in the market. You can fit a heater in the back compartment where the water pump. I took the activated carbon out and set one up at my kitchen countertop for a month now as a heavily planted pseudo-walstad method / low tech dirted tank with a HM betta and 2 snails. It has been running strong with fairly adequate plant grow using only the stock LED.
https://www.chewy.com/fluval-spec…/dp/152022
https://www.amazon.com/Fluval-Spe…l+spec+iii
P.S. FYI, if you are fairly new to this hobby, this is a pretty small tank. Meaning you can't stock a lot of things into it unless you know exactly what you are doing. It's always more challenging to run a smaller tank compared to a larger tank because aquarium is about reaching sustainable equilibrium and smaller system means it's easier to get fluctuations big enough that can kill anything alive in your tank, including plants!. If you are new to this hobby, either get a larger tank, or do ALOT of reading in how to keep a nano system. Plant as much as possible and stock as little as possible if you want to succeed. It's not hard, but you need to do your study if you want a beautiful small fish tank on your desk or kitchen counter.