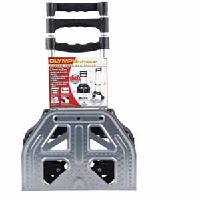 I was looking for a folding cart and ran into this for $13.99
https://www.frys.com/product/9303480
Compared to some others that I was looking at including 75lb capacity, this seemed to be very nicely priced. Google express was shipping it for free – I didn't even check Fry's shipping policies.
Note: It is few pounds heavier than other 150lb capacity cart's but given that my usage is going to be 3-4 times a year, I don't really care about that. If you are going to be using something like very frequently, please compare the weight of the cart.