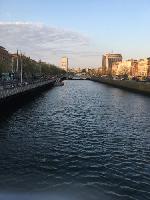 Air Canada has round trip airfares travelling from Phoenix (PHX) to Dublin Ireland (DUB) for $283, making 1 stop.
Travel Availability:
Departs PHX: Jan 8, 15, 22, 24
Returns: Jan 15, 22, 24, 29, 31, generally 7-days works best
To book this, enter travel information on and then select your flights and favorite OTA to book with. For hotels, check out Link Hotwire's Hot Rates hotels or look for latest promotions for Hotels.com
https://www.skyscanner.com/trip/dublin
.
.