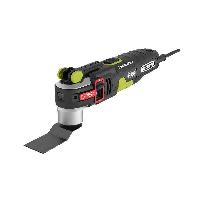 https://www.ebay.com/itm/201605225256
Item is sold directly from the manufacturer so no risk of used/refurbished product. I've done extensive research on the best/highest rated and although it isn't as highly touted as the Bosch or Fein models, this F80 will hold it's own for a DIY user. I'm deep in the red with Milwaukee M18 and lime green with Ryobi One+ ecosystems and still went with this model because of it's great value and performance at this price point. It still makes almost all "highest rated oscillation tool" lists online and on YT.
The new Rockwell duo tech oscillation Sonicrafter F80 (RK5151K) is the first oscillating multi-tool that provides a choice of 2 oscillating angles: 5.0 degree and 3.4 degree. Now, users can choose the 5.0 degree oscillating angle when projects require fast, aggressive cuts for Quick results or the 3.4° angle for precision and continuous control. The versatile Rockwell F80 duo tech oscillation Sonicrafter works harder and faster than any other multi-tool, while enabling the user to choose the oscillating angle that best suits the job at hand. The handcrafted Rockwell F80 can be used at a 5.0 degree oscillating angle with an end-cut blade to make short work of cross-cutting, ripping or making plunge-cuts in wood and other materials. Versatile F80 trims doorjambs, clips nail heads and cuts PVC or metal plumbing pipes. Switch to the 3.4° angle, using a rigid Scraper blade, to remove blistered paint, take rust from bare metal for priming or scrape and remove hardened caulk or adhesives. Clamp on a carbide grit semicircular blade to grind old grout from between floor or wall tiles. Cutting speed of the handcrafted F80 is 5 times faster than the basic Rockwell Sonicrafter rk5121k. The F80 features the industry leading maximum cutting load of 35 lbs. Of force. This means it can be pushed harder than any other multi-tool brand of without stalling the blade.
Powerful 4.2 Amp motor with constant speed control won't stall under heavy loads
Duotech oscillation technology allows you to select the optimum oscillation angle for power and precision
Hyperlock tool-free clamp is easy to use and provides 1 ton of clamping force to prevent slipping during use, no matter the blade angle
Variable speed dial for precision control, from 10,000 to 19,000 oscillations per minute
Dual oscillation angles, 5° or 3.4°
Universal fit system holds all major brands of blades
Includes 10 accessories and hard storage case
Conversely:
1. Lowes : $129.99
2. Amazon : $$122.98 (+5% discount)
3. Home Depot: $122.98
CCC highest price: $159.99
CCC lowest price: $89.99