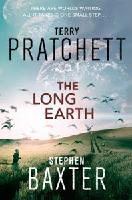 Amazon and Google Play have the eBook edition of The Long Earth b'y Terry Pratchett and Stephen Baxter for $1.99
https://www.amazon.com/dp/B006O41HTO
https://play.google.com/store/boo…C&hl=en_US
"An absorbing collaborative effort from two SF giants…a marriage made in fan heaven – Pratchett's warmth and humanity allied to Baxter's extraordinarily fertile science-fictional imagination…there's much to enjoy…a charming, absorbing and somehow spacious piece of imagineering" — Adam Roberts * GUARDIAN * "The idea of parallel Earths is one of the most enduring that science fiction has given us, but rarely has it been explored with quite so much gusto as in this new novel by two of the giants of British speculative fiction…a triumph…accessible, fun and thoughtful" — David Barnett * INDEPENDENT * "***** Literary alchemy…In the hands of Pratchett and Baxter, the possibilites are almost infinite…a story that revels in big ideas…you can sense the excitement of the authors as they toy with the labyrinthine possibilities of their premise, and it's infectious…thrillingly expansive, joyously inventive and utterly engrossing" * SFX * "[Pratchett] succeeds in working seamlessly with Baxter…adding a welcome shot of fun to the world of science fiction" — Alison Flood * SUNDAY TIMES * "Wonderfully rich fantasy, full of ingenuity, humour and some rather deep thoughts" * READERS' DIGEST *
From the Back Cover
The possibilities are endless. (Just be careful what you wish for. . . .)
1916: The Western Front. Private Percy Blakeney wakes up. He is lying on fresh spring grass. He can hear birdsong and the wind in the leaves. Where have the mud, blood, and blasted landscape of no-man's-land gone? For that matter, where has Percy gone?
2015: Madison, Wisconsin. Police officer Monica Jansson is exploring the burned-out home of a reclusive—some say mad, others allege dangerous—scientist who seems to have vanished. Sifting through the wreckage, Jansson find a curious gadget: a box containing some rudimentary wiring, a three-way switch, and . . . a potato. It is the prototype of an invention that will change the way humankind views the world forever.
The first novel in an exciting new collaboration between Discworld creator Terry Pratchett and the acclaimed SF writer Stephen Baxter, The Long Earthtransports readers to the ends of the earth—and far beyond. All it takes is a single step. . . .